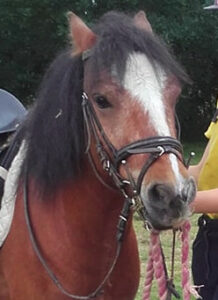 Many of you know Pasha. He's our 13 hand high, bay, Dartmoor pony. He is full of character and usually full of hay too. He is gentle and just a touch wide at 325kg. Pasha is young and loves to hang around with all our mares. I'm not sure if he is looking for a mummy or a girl friend, but he is a bit of a ladies man – more like Hercules Poirot than James Bond.
I remember when I went to see Pasha for the first time. He was a cute little boy who was as tall as he was wide. I had taken my son Huw with me and the two of them became partners-in-crime instantly. Pasha wasn't too sure what was going on, but he wasn't terribly bothered. I liked that about him immediately. I was told that Pasha was 6 years old and was Riding For The Disabled (RDA) trained. He was so calm that I had no reason to doubt it. The only thing I was told that was a downside to this young man was that he didn't like to box and he didn't like to travel. I was sure I could sort this out, so I agreed to adopt him.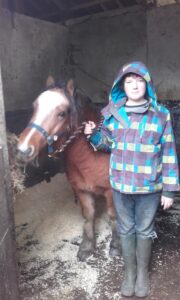 I came back a week later (had to get his box sorted) and picked our boy up. I brought Dottie with us as I figured that Pasha would be happier going on the box if he didn't think he would be doing it alone. It was a risk, but one I thought negligible, because I didn't know the yard he was coming from. I have to admit that I wasn't overly impressed by that yard as it wasn't terribly clean and there were lots of broken places in the hard standing. But I digress…. To my utter surprise, Pasha walked straight up the ramp and into the trailer. His ears were forward and he looked excited as we tied him up and gave him hay. Dottie looked over and gave the pony equivalent of a shrug.
The ride home to Sunshine was calm. When we arrived, Pasha was easy to get off the trailer. Again, he looked excited about his new home. We had a quick trot up on the yard to make sure he was fine. Pasha was far more interested at looking at all the new faces than what we were asking him to do. Our little fat pony was also out of puff by that trot up. Simon put Pasha in his new stable and we gave him some hay which was devoured in short order. Simon and I looked at each other and agreed that we had an "eater".
After a week in quarantine so we could do a full health check and a worming, it was time to start introducing Pasha to work. Huw was the obvious choice as they had already developed a bond. We had a major problem trying to find tack to fit this monster. He was so wide that his back was flat. He was taking the same size grith as I would put on a horse 5 hands bigger than Pasha. One of teachers, Shannon, had a "miracle saddle" that was treeless, which made it possible for Pasha to be ridden and worked. When he lost some weight, he would be put into a more proper saddle. To this day I am so thankful that Shan had that saddle!
Huw mounted Pasha and we walked him into our field known as The Working. Shannon and I watched as Huw walked and trotted Pasha around. Pasha was a bit unsure yet happy to do what was asked of him. Now we have a ring in The Working which has a deep track (we currently use it as a ditch when we teach cross-country), and Huw and Pasha rode straight towards it. Pasha, who was so heavy that he couldn't canter, heaved himself across it. At that moment Shannon squeeked, "I love that pony! He has so much! I am going to make him a jumper!"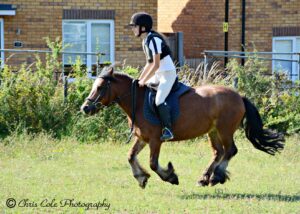 So Shannon and Huw began to work Pasha. He had arrived weighing 380kg, which for a Dartmoor pony is morbidly fat. I was very impressed with the work they did as when we had out Annual Vet Inspection two months later in January, Pasha was down to 355kg. Not great, but better. Our Inspecting Vet, Mr McFairlane, checked Pasha and asked me what he had been doing in the school. I said, "Not much. Why?"
"Your pony just turned 4, I'd say about 6 weeks ago by his teeth. You know that you can't have anything under 4 working in the school."
Oh dear. This is the second time I had been told by a seller that my horse was actually older than it was. Fortunately for us we had just started putting Pasha into the lead rein classes, so we hadn't broken any laws. But for training it makes a big difference. Mr McFarland also said that Pasha needed to loose 50kg by next inspection. Weight Watchers or Slimming World for Horses, anyone? We did get him down to 305kg, but our vet, Dr Laura, said he was too thin. So 325kg it is.
As Pasha was, and still is, an "eater" it was vital that we control his diet. He went on sugar free foods and no treats. We got him a trickle feeding haynet. It lasted 1 night before Pasha tore a hole the size of his head in it. Pasha was either ridden or lunged everyday. We tried him on a shavings bed because Pasha liked (and still likes) to eat his bedding. This change ended up with Pasha developing Colic. He ate his bed – which the manufacturers claimed wouldn't happen because this bedding is 'unpalatable to horses'. They had never met Pasha. We had our vet, Dr Laura, out and she gave him an injection to help him calm down and poop. We must have walked him more that day than any day previous. Eventually Pasha began pooping (remember that horses only have a one way system so what goes in the front must come out the back!) and boy did he produce. It was decided that Pasha would have a small straw bed put in at day's end and it would not be more than 8 pounds of straw. This way if he ate it, the effects would be minimal. He still has this type of bed.
Pasha has become one of Sunshine's most popular ponies. Thanks to the efforts of Shannon and then later Lauren and Izzy, Pasha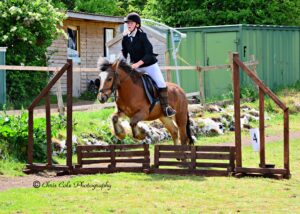 has become an amazing jumper. He is not Schoolmaster, so he is not the best to start to teach jumping with, but if a rider has some jumping knowledge and is still small, Pasha is your boy. Pasha usually jumps to a height of 60cm, but he has his personal best with Izzy at 85cm. (It was a question of who could jump higher – Pasha or Katrina. Pasha won.) It is important to realise that a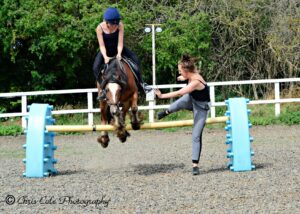 13hh, boxy Dartmoor pony isn't going to do the big sticks like a svelte New Forest. Each horse should jump to the height that is comfortable for them without posing damage to their legs.
Pasha is also an amazing dressage pony. Because he is young and responsive, he has some lovely, albeit small in stride, paces. Pasha has competed in our home shows and done very well. Huw has competed him in Interdressage, an online international competition, several times and the pair have always placed in the top 6. Yes, Pasha can be stubborn and there was the time that he jumped the mounting block out of the arena to avoid the next move, but he does have a lovely nature.
Pasha is also our "Pony Ride Pony".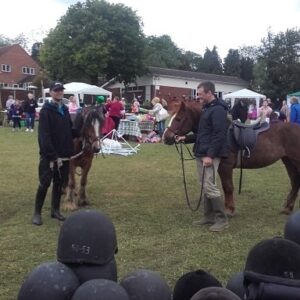 Because of his good nature, we take him and Crystal (who he really doesn't like) when we do pony rides at the local school fetes. He is patient and forgiving. He doesn't kick or bite the riders. He seems to love to the attention, but he will tell you when he has had enough and wants a break. Many very young children who are too small to ride start their equine education by giving Pasha a pet-pet. Did you know he has the cutest little moustache too?
When Pasha isn't showing off his jumping, dressage or pony riding, he is a stalwart in our school. Now all this praise of Pasha doesn't mean he doesn't have faults. Pasha is an EATER. He will happily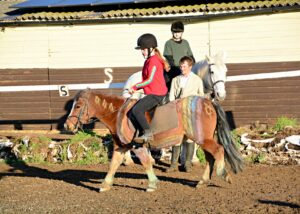 thrown his head down and try to eat the grass in any of our schools. This is a challenge to both rider and Handler. He is strong and our young riders just don't have the muscle or heft to stop him from doing this. Also, because he is strong, it is important that riders who have just come off the lead rein or those learning to canter have the confidence to pull the reins when he decides that he wants to be in another part of the school. Because he looks like butter wouldn't melt in his mouth doesn't mean he isn't a very cheeky pony.
Pasha is now, really and truly, six years old.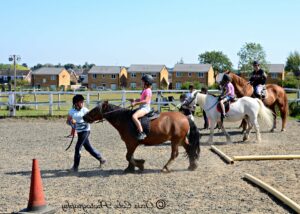 We do love him to bits and he is a big part of what Sunshine is all about. He is kind and helpful to our disabled riders and doesn't put a hoof out of place for them. He will challenge riders who need a good challenge. He loves to hack and can be seen out on all our special rides or just with Huw. If you are young enough or small enough, Pasha is fun ride no matter what you are asking him to do.
This post would not be possible without the wonderful photos from Chris Cole Photography. Thank you Chris for all you do for us!