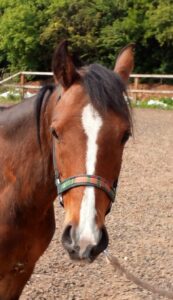 I have a pony named Treflan Pert. We don't call her Treffie or Pertie or any another combination of her passport name. To us she is Rosie. Rosie is a very pretty girl who came to us 2 years ago. Rosie is registered with the Welsh Pony and Cob Society as she is a Welsh Section B pony. She is 12/2 in height, a leathered bay in colour, and has some of the finest legs I have every seen – and when I say finest, I mean skinny. Rosie's story is one of understanding and love over fear and pain.
I adopted Rosie from a reputable horse dealer. I was told that she was a "plug and play pony". I was guaranteed she would fit for the school as soon as she was out of quarantine. I don't think he ever discussed this plan of action with this 12 year old pony! When Rosie arrived she was very underweight and bony. The thing that caught my heart was the gentleness of her eyes. She asked me quietly to please be kind to her and give her a chance. I could tell immediately that this pony was not going to be ready for the school in 14 days – or even 14 weeks.
I will admit that I did contact the dealer and let him know that what he sold me was not what he had promised. I was furious about that. He told me that because she was a "dirt cheap pony" he was not about to give me a refund no matter what the law said. I sat back and thought, 'what am I going to do now?'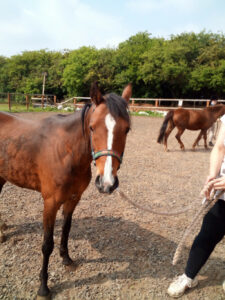 At this point, Rosie was a pretty face with a body covered in sarcoids. She had huge one on the side of her mouth, another between her front legs, one on her chest, and her back legs were more sarcoids that fur. She refused the bridle and bit. She refused the saddle. My only option was to try to make some lemonade from this lemon. I started by having the vet remove the sarcoid on her mouth and the one between her legs. We started feeding her properly and she slowly calmed and accepted our presence and touch. It took 6 weeks for the treated sarcoids to fall off. It was a long month and a half.
For those of you who don't know what a sarcoid is, it is a tumour like growth. Like all tumours the base condition is hard to determine. Some sarcoids are cancerous and cause the horse a shorted life-span.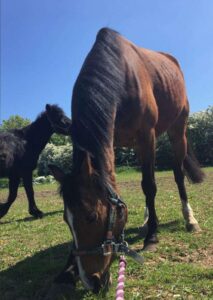 Some sarcoids are from the papilomavirus which cause warts in both animals and humans. In any case, these warts are very sensitive to the touch and bleed easily. What and how horses develop sarcoids and their various treatments are the source of endless web articles and feeds from both veterinarians and horse owners the world over. Beyond having the sarcoids mentioned removed using the rubber band technique and doing lots of reading about sarcoids, I can honestly say I really did nothing. The information presented was often contradictory and there were numerous claims that all/most the treatments had no real definitive results. So I did Nothing but love this pony.
We noticed after about 7 months of caring for Rosie that her sarcoids began to fall off. Rosie was now calmer than when she arrived. She was very handleable and stopped rearing up in fear.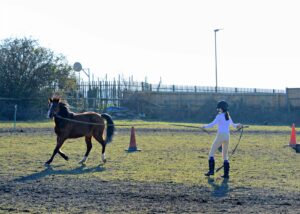 She loved a good groom and was very pleasant round children. So we tried to ride her again. I asked for volunteers and 2 of my most experienced Senior Handlers stepped up. It went to well on the first ride. Rosie was nervous but she eventually calmed so that we could walk several laps of our natural arena on both reins. Yeah! We did it again a few days later and Rosie wasn't as accepting as she was the first time. I figured this was because she knew what was going on and she was being a 'moody mare'. The third time we worked her, Rosie put the Handler on the ground with a God-Almighty buck. No one was impressed. So we backed up in our training to working her on the lunge and in-hand.
In between trying to back Rosie, we kept using Rosie for In-Hand work. She was a natural. She was happy to walk, trot and even a few times canter in-hand. So when she threw a different experienced Handler on the ground during another backing session, I understood and accepted what Rosie was saying.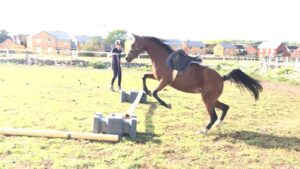 She was telling me that she would be happy to do anything I ask as long as it didn't require someone on her back. I also found one last sarcoid buried deep in her coat on the girth line. Every time we tightened the girth, it would inflame and hurt. I also now believe that the psychological damage from that pain is too ingrained for her to overcome it. So in-hand it is.
Sunshine is a bit different from most riding schools as we believe that we are training people, young and old, to be able to handle and work with all types of horses in all types of disciplines. Some folks love jumping while others adore dressage. Some people love to do hacking and others want to do in-hand. Some riders like to do all of it. In-hand work is often seen as 'the red-headed step-child' of the riding world. It is looked down on and those involved are quietly pitied. Those who compete will tell you that it is hard work and not just making the horse walk prettily. So at Sunshine we teach In-Hand Riding (a bit of an oxymoron there!)
Being able to control a horse confidently on the ground, having it move through the paces and the figures means that you as the Handler is both knowledgeable and fit.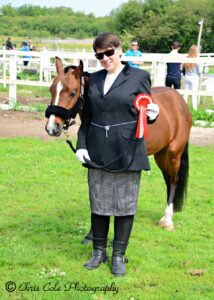 Leading the horse properly with a long lead from under the chin takes practice. Being confident to walk next to the shoulder (and stay there!) requires building trust and understanding between you and the horse. Asking the horse to transition confidently up and down through the paces while your steps match theirs is the real challenge. I remember trying to get my steps to match Charlie's. I was doing a rather bounding, bouncing run while he trotted.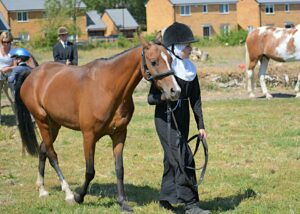 Let's not go into the disaster of what happened with his canter! Needless to say, this is all very physical training and you as the Handler must also know all the figures and how to do them properly. You must be physically fit and, if you are a lady, be able to run in a skirt. Rosie, unlike anyone else on the yard, is a natural at In-Hand and makes her Handler look great!
Rosie loves a good groom. She will happily stand for hours while people brush and pamper her. She likes to watch and occasionally comment on how one is doing. She loves little people and gives them the gentlest of eyes as the child comes for the first time to not only meet her but any pony ever. Because she gives off calm vibes, the child (or adult for that matter) relaxes and enjoys the experience as much as she does.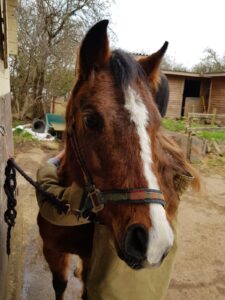 Rosie is very much a girly-girl and her colour would be Pink! if she spoke English. Her reddish-brown fur is thick now and very soft to the touch, so our little riders think she is a big soft toy. She may be happiest when she is being groomed for a show and her mane and tail are being plaited.
Rosie loves to compete. She likes to show off how pretty she is.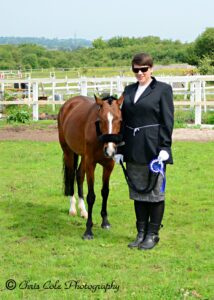 Unfortunately her sarcoids have left her scarred so we won't take her out to other local shows because they won't understand and will mark her down for them. Rosie is judged for her partnership with her Handler, her smooth paces, her compliance and her conformation. It is shame that surface scars will stop her from bigger areas of Showing, but our Rosie actually makes her biggest mark in helping people heal, develop and learn.
Rosie works with our Special Clients. Sunshine has and hosts sessions for individuals who have or suffer from emotional and/or educational issues. We don't do expressed horse therapy as we are not qualified and licensed for that, but we do work with these adults and children who find relaxation and calmness that comes with being around horses.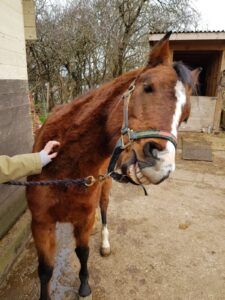 All equines have the innate ability to cause humans to release dopamine, the feel good hormone. Dopamine is what gives humans the sensation of pleasure, happiness and well being. There is much talk in the mainstream media about young people's dependence on social media acclaim because each 'like' does give a release of dopamine. With equines one not only gets to give the love, but receives it back in a very real and physical way. With our Special Clients, they don't always want to ride. Some have fear factors which need to be overcome slowly and confidence to be built in themselves. Some have physical barriers which makes it so they can't ride. Some have educational language barriers which prevent them from riding. In all cases, they benefit from working with Rosie.
Rosie's love and in-hand work have helped numerous people of all ages enjoy working with and developing both a skill and a relationship with equines.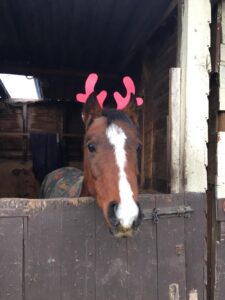 The number of times I felt frustrated by the fact I didn't see Rosie "earning her keep" now embarrasses me. Rosie is at the heart of a new programme that Sunshine has with the local group Horse Angels. This programme, lead by Anita Nancollas, will be working with our local schools to provide equine outreach to the more deprived areas of Luton. This is a real chance for our town's young people to develop, become more confident, forward looking and personally balanced in their life. What Rosie and 2 of her friends will give the children of Luton is great: the possibility of a better future because these kids can.
So when you go to say the County Show and you see people doing In-Hand Showing, don't think that they are not full blooded equestrians. I would bet that most of these people, I mean horses, are unsung heroes with amazing partners, I mean the humans, who do an awful lot on the quiet for their community. Rosie is a vital and beloved part of the Sunshine Team, and how she "earns her keep" could teach several of our jumpers a thing our two!
This post would not be possible without the wonderful photos from Chris Cole Photography and from Miss R King.