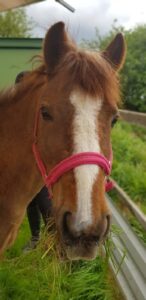 There was time in 2018 at Sunshine when we had 4 New Forest horses on the yard – Jester (25), Donny (17), Mollie (18) and Callie (10). The yard was busy with these fiery, friendly and clever equines. Jester and Donny were the ultimate escape artists while Mollie proved what it meant to be a talented jumper and a ginger mare. The princess was Callie. Of this quartet of mayhem, only Callie remains because she was the youngest when the rest went to retire.
Callie's registered name with the New Forest Horse Society is Hazelhill Candyfloss. She was born in the New Forest and came out in the sales when she was 4.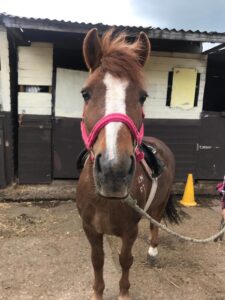 Prior to coming to Sunshine, Callie had 2 previous owners (so says a passport that was not kept as updated as it should have been. I really believe she was passed parcel to post.). There was much debate as to what we at Sunshine were going to call her as she would answer to a variety of names. I wanted to call her Candy because it was close to her passport name, but my son Huw was insistent that she was a Callie. After much debate and remonstrations, he won and this pretty ginger pony is our Callie.
Callie is 12/2 and as I said ginger – chestnut if you are being particular, with matching mane and tail. She is not as fine boned as Rosie, which is probably why she is far happier with riders who not only do flat work but jump as well. From a distance in summer they can be hard to tell a part. Because of their size and temperament, they have their own field called the Nursery.
In the beginning, Callie and Rosie didn't get along (you wouldn't believe that now!). There were some serious fights between them. Both girls are what are called Native Breeds – horses who originated or were specifically bred in the British Isles.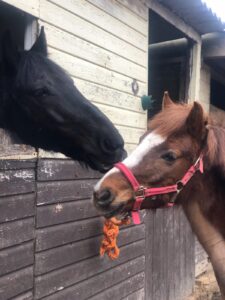 There are 15 Native Breeds: Exmoor, Dartmoor (Pasha), Fell and Dales (½ Magic), Shire (other ½ Magic), Cleveland Bay, English Thoroughbred (Benji), Hackney, Welsh Mountain (Dottie [Class A], Rosie [Class B] Harley [Class A]), Welsh Cob, Connemara, Suffolk Punch (wish I had one of these!), Clydesdale (hold my beer while I dream), Eriskay, Highland (Crystal) and Shetland (Bella). Charlie, Tango, Henry, Molly and Ben are 'foreign breeds', while Annie, Dora and Stan are Cobs – the most difficult of all breeds to pinpoint. Don't even start asking about June! A cob could be a Welsh Cob base with a mix of all sorts. It is more of a body and temperament type than an exact breed. There are no studbooks for Cobs unlike the rest of those listed. Annie and June (possibly) are supposedly Irish Cobs which actually means they come from the Gypsy Vanner stock which is a cross between any coloured type horse and a Shire or a Clydesdale. The Gypsy Vanner now has a Studbook but I doubt you will be able to find any listing for Annie or June's sire.
So back to Callie. Callie's New Forest linage is very proud. New Forests are not the largest of equines with most being ponies between 12 and 14 hands. At one point before the rise of the English Thoroughbred, these were the racers because they are so fast and nimble.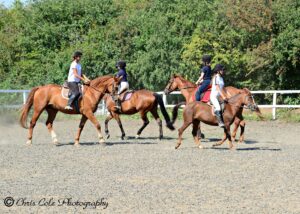 If you every rode or have watched any of our New Forests, then you know they can canter on a whim at a speed that can cause your eyes to water. Callie can keep up with some of our fastest horses who are 3-5 Hands (12 to 20 inches) bigger than she is.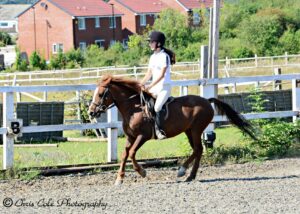 This being said, Callie is a lady and will only really take off if you ask her to. It is this natural desire to behave which makes her so perfect not only for a riding school in general, but allows her to be able to participate in lessons from Lead Rein to Intermediate.
It is time that I deal with 'The Elephant In The Room' , or more particularly, The Hope Of Sunshine. As many of you know, I have a real soft spot for things that are broken – be it human or equine. We have special programmes for humans who have had a rough go of it or have a disability that limits their life experience. To me and the Sunshine Staff, riding is for everyone and we do our best to give that wonderful gift to all who come here. This is the same for horses.
It breaks my heart that there are people out in the world who think of animals as a disposable entity.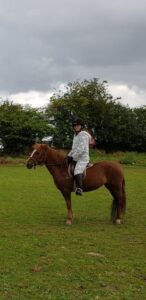 I grew up and been around animals all my life – from cows and chickens to cats, dogs and horses. My father and mother taught me to respect animals going to the abattoir as much as those who sleep on my bed. Life, long or short, is precious and a gift. As an adult I still carry that with me. So when I purchase an animal, be it feline, canine or equine, I know my responsibility to them and will, to the best of my ability, meet those requirements.
Yes, Sunshine has many horses who have had a bad start in life. True, they are less expensive to adopt, but they require a lot of love and patience. Callie had a bad start. I know that her previous owner did love her to bits, but I also know that she could not deal with issues that Callie presented.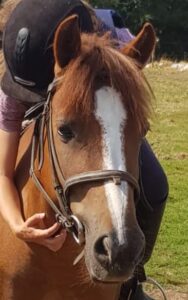 When Callie arrived at Sunshine she was desperately shy and head shy. These are two separate things. Her personality shyness is still with us. She has bonded to a few special people who she really trusts and can relax around. These people can do anything with her and she enjoys the games that she is part of. It's when she is calm and happy that her true personality comes out and we see what a funny pony she is!
Being Head Shy is a different cup of tea. Somewhere along the line of her story, Callie was beaten about her head and face. This is not talk but confirmed by our Vet, Dr Laura. There is a lump on her nose that is a healed break. How it happened I could not tell you. What I can tell you is that for the first 3 months of Callie's life here, we fought tooth and nail to get a bridle on her. She would back up and rear. Her eyes would show the whites and roll back in her head. It was so bad that she actually fell over backwards once. She hid at the back of her stable and even reared when her dinner was presented. We are talking about a seriously terrified and traumatised pony. As I said, I don't know who was mean to her, but they better hope I never find out!
So what did we do? We put Callie on our 'Love Offensive' (I really need to trademark this phrase!). We have loved this pony to good mental health. How did we do this? Firstly by going slowly. Working with a traumatised horse is like working with a traumatised child. You are going to have to introduce things at a speed they can accept. Using force because it is convenient for you will only end in disaster. You also have to accept that there will be good days and bad days – just like us. There are days when you can groom, saddle up and go with minimum of fuss. Then there are the bad days. Still.
The plan for Callie's recovery started with a soft, loose head collar that could be buckled behind her ears and not slid over her ears.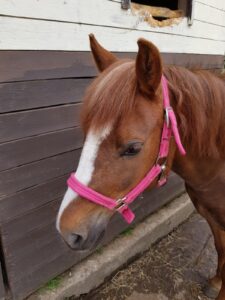 Moving slowly and giving lots of love and encouragement as you did it made it possible for us to get it on and for her to go to the fields. The second step was using something called T-Touch (I was told that this was also used on a Canadian TV show about horses!). T-Touch is the gentle massaging of the horse's face beginning half way between the left ear and the left eye, slowly using a circular motion work down the side of the face and around to the nose. Aaron must have spent the better part of an hour every day doing this with her. I did it with her when Aaron was busy. Rachel I think still does it. After 2 months of this, Callie relaxed and let people touch her face and put a bridle on.
Simon also starting putting Callie's bridle on by loosing the cheek piece.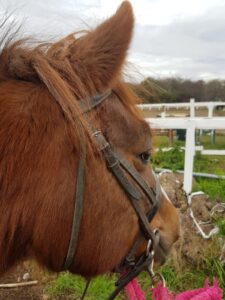 This made it possible to get it over her ears without her being afraid that we would grab her ear and twist(another fear she has). Once the bridle was on, we would tighten all the parts up and she was ready to go. When Callie is having a bad day, we still do this. She appreciates that we listen to her and do what she needs so that all of us win, and Callie's Bad Day becomes a Callie Good Day.
Because Callie knows she is respected at Sunshine, she has been able to blossom as an individual.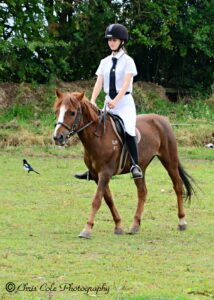 She participates doing In-Hand Classes and is part of Anita Nancollas's Horse Angels. She is busy teaching young riders how to safely ride, hack out and jump. She can do Dressage and will do Cross Country (as long as it is low).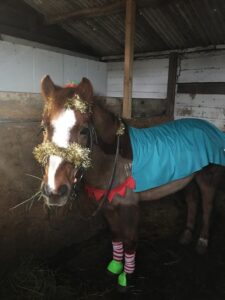 She likes to compete in Fancy Dress Showing Shows and well as Showing In-Hand properly.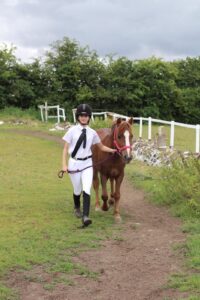 Because we (especially Rachel) love Callie so deeply, Callie has overcome most of her fear and trauma.
Callie is our ultimate success story of how every person is valuable; how every person can become more than what was originally deemed their potential. Callie is what Sunshine is really all about: Love & Possibilities.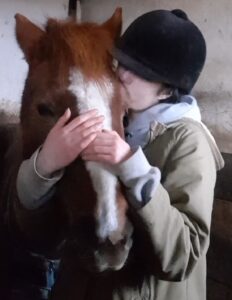 This post was made possible by the photos from Chris Cole Photography, Miss R King, and Miss I Afridi. Thank you Ladies!