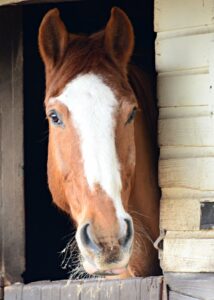 It was St Patrick's Day last week, and Ben typifies an Irish gentleman. He is charming, interested in what your are doing, and a trifle bit silly. He reminds me of my late father-in-law. He was a lovely man from Dublin who was all these things. Dad, who was "fond of the ponies" and banned by the family to bet on the Grand National (long story – ask me personally), would have loved Ben as Ben is the full deal – an Irish Sport Horse.
The breed Irish Sport Horse, or ISH for short, was created in the 1920s. There was an original Irish Hunter type that was popular from the 1860s onwards, but it was more of an agricultural horse than a competitive show horse. The purpose of breeding the ISH was to make a strong, powerful but elegant Dressage (yes, dressage) competitor which could also be used as a hunting horse. I have looked but can't find the name of the original breeder, but an ISH was born from a cross of an Irish Draught and an Irish Thoroughbred (yes, think of a Dora type and Tango having a child). In the 1990s there was a variant with an European Warmblood added into the mix (so now we are talking Tango and Tuscany – which will end with Charlie killing Tango as Tuscany was "his" mare). The point was to make create a horse that had so much scope it could do anything and come home for cuddles.
The breed is amazing. For 22 out of the last 24 years,
if you were looking for a top stud, then you would have an ISH. When it comes to winning, they are what you want. Jonelle Price's Classic Moet and Oliver Townend's Ballaghmor Class
are two examples of the very best eventers in the world both having won at least 1 of the coveted 5* Eventing crowns. Cruising and Clover Hill were amazing showjumpers
with many, many cups and trophies and a World Championship or two. They are now the top sires for the breed. The Olympics are filled with ISHs as are the world's hunting courses.
Although the Stud Book is held in Dublin, the breed now is found all over the world.
So Ben has a lot to live up to. And he does. Ben is our current Sunshine Accumulator Cup holder. The Accumulator is a One Day Event where the horses compete in all the major disciplines: In-Hand, Dressage, Show Jumping, and Cross Country.
The purpose is to show the full scope of what a horse can do. Each section is judged according to that discipline's rules, horses and riders are ranked, and the combination with the most overall points wins. Last July Ben cruised through the various events – well almost. Like anyone, Ben had lots to learn. One area he was not too confident about was Cross Country. Ben, being the gentleman that he is, didn't think it was right to jump fences from field to field as we had previously told him not to. It took a lot of determination to get him to jump Fence 12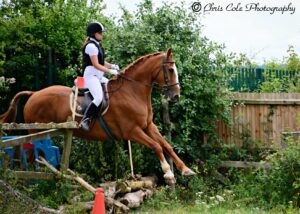 which he eventually did, but he came in 5th in the Cross Country. It was a good thing that he won the Dressage and Showing and came in 2nd in Showjumping!
Ben has come a long way from when he was brought to us by Ade for training. Ade loves his boy (and he should as Ben is loveable),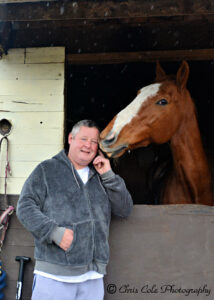 but Ben really didn't have the kind of training that made him a viable riding horse. I would go as far as to say that Ben's early training was sketchy at best. Ben is a very right sided horse and it took a lot of patience and, quite frankly, courage to get him to work on his left. If you tried, and Ade did, but weren't an excellent rider like Fiona, then you were placed "without prejudice" on the floor. So Fiona, Beowulf and myself had some work cut out for us.
Fiona used Ben's natural love for hacking as her starting point. She rode him out regularly until he began to trust her and listen to what she was trying to tell him. Beowulf and I worked Ben in the ring with lots, and lots, and lots more, flatwork.
There was no point in teaching Ben to jump until Ben knew which foot went where. It didn't take long – about 10 weeks, and Ben was much more balanced and able to use both sides of his body (his left is still the weak and sticky side). He also learned that throwing people off because the work was hard wasn't going to cut it. Ade came, had a ride and was thrilled. He could safely ride his boy without fear. But Ade wanted more and Ben has been here since. Ade saw Ben's potential. This 17/2 hh chestnut could take county, if not the country, by storm.
So we started teaching Ben proper jumping.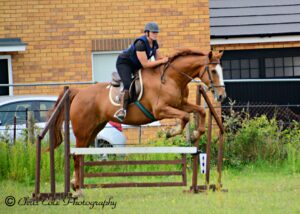 As I have said on other Horse Stories, horses will jump naturally, but there is nothing natural about show jumping or cross country. In each case the horse has to learn what the fence is, how to approach and jump the fence, and how not to run off like a looney after the fence.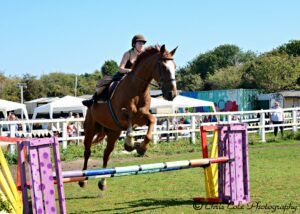 The horse has to learn to trust the rider, have confidence that he/she knows what they are doing, and that this can be fun. Fun is the important part because if they aren't having fun, then you will have a dirt encrusted experience when they say no.
Ben likes jumping (thank God). Ben is also bright but silly. He has learned the different fence types with ease and is happy to go over them. Ben's problem is listening. It has been 3 years of working with him and he still doesn't always listen.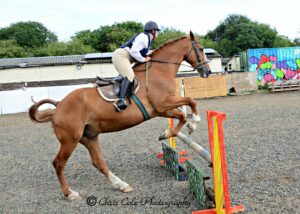 This is why we tend to use him only in the upper level lessons. Remember his breed is inherently strong, so the rider has to have the confidence and the seat to deal with this. Once you have him listening he is amazing. Until then, technique is your best friend.
So who is riding Ben now? We have Samantha, who won the Accumulator Cup with him, and she is both a riding instructor and a fireman (yeah, our own Fireman Sam), Beowulf,
Fiona occasionally, and our Intermediate riders Caitlin, Lauren, Freya, Keira and Carl (Ade took the winter off). Ben's riders have no illusions about him and his strength and speed, but they also know that this horse will make them into not just riders, but horsemen and women.
So what is Ben's future now? We want to start taking him out to competitions. He has been to Bury Farm and did very well coming home with a rosette for a Clear Round.
We would like to take him hunting and maybe a few other One Day Events (ODE) in the area. We would like to really bring him on as an Eventer because that will show the full scope of Ben's big talent. Ade is in favour of this providing he doesn't have to do the riding. It is great to have an owner so positive and involved in the training. Samantha has the competition partner she's dreamed of and can't wait to get out there. However, the first thing we need to teach him in to travel politely – he does like to kick the trailer something fierce. That is not good for either hoof or trailer side wall. Ah, with Ben there is always something more to learn.
Ben is Number 3 in the herd of The Big Boys.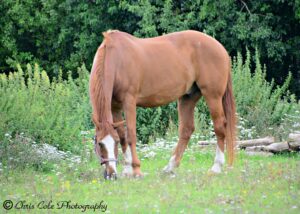 He is happy there and doesn't challenge for a higher place. He tends to play with the other big ginger, Tango, and occasionally his stable brother Stan. It is a bit frightening to see these Big Boys start haring around as the rumbling sound from the ground is physical!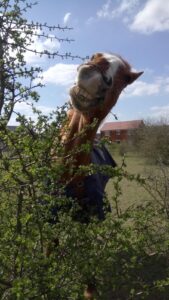 You can count that if they start to rear up, Charlie will appear to calm things down. He likes a well behaved herd and Ben respects Charlie's judgement (Tango can be a bit iffy on that front but knows where the line is).
We all believe that Ben has a big future and he is still a young horse. I personally like working with him because he is smart and willing. We still have that cross country to sort out. Guess I know what I'm doing this weekend. Come on, Ben. It's show jumping only different!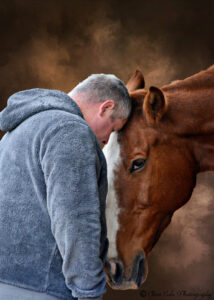 This post is made possible with the help from Chris Cole Photography, Miss C Lake, Miss U Afridi, and Miss E Silk. Thanks y'all.