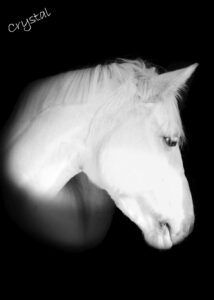 "Who am I riding today? Can I ride Crystal?"
"I wanna ride Crystal today. Can I?"
"What do you mean I can't ride Crystal today. She's totally the best!"
These are the phrases I hear at least 6 days a week.
"All right! I got Crystal!"
"I'm jumping today and I have Crystal? YES!"
"Crystal is so lovely. I want to take her home."
These are also the phrases I hear at least 6 days a day.
Highland Crystal is our 14/1hh Highland pony. Like her name, she is a grey horse with patches of dark skin that show through. Because of these dark skin patches and in spite of her pure white coat, she is still a grey and not a rare white horse who has a double Dominant White gene (horse genetics are fun).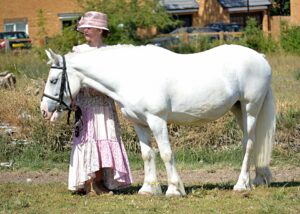 She is 14 years old with the wisdom of someone far older. It is usual to give the title Schoolmaster to someone so young, but she is a definite contender for the title. There is not much she hasn't done and done very well, and she will both teach and protect riders ensuring they continue to ride and develop. She doesn't suffer fools gladly, but will tolerate and help those who need her the most. She may be the best thing to come out of Scotland since whiskey.
Crystal's breed is the Highland Pony. This is one of the 3 native breeds to the Scottish highlands and islands – the others being the Shetland and the Eriskay. They are a hearty breed with a double coat of long and short hairs (such fun in the moulting season!), ranging from 13 hands to 14/2 hands high.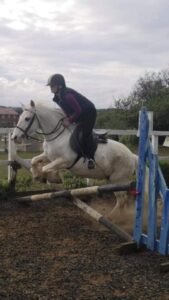 They are strong enough in the shoulder to plough and strong enough in the hind to jump. They are known for their gentle, calm nature which makes them an ideal riding pony. There are only about 5500 pure Highlands and we are very lucky to have one living with us at Sunshine. Although there is a breeding programme and many Highlands are crossed with other breeds such as a thoroughbred to make eventing horses, Highlands are classed at Level 4 "At Risk" by the Rare Breeds Survival Trust. If you have read George R.R. Martin's Song of Ice and Fire (Game of Thrones), you will know about the horses used up by the wall – they are called Garrons. Garrons actually exist and are a type of Highland pony. Crystal IS a garron – tall, strong, balanced and dedicated Highland pony. (FYI, the only dragon at Sunshine is me.)
Crystal is a perfect example of her breed. She is loyal, dependable and trustworthy. She is has an intelligence about her and she will also tell you her opinion. Now as many of you may remember, Crystal was attacked when she first came to Sunshine in 2016. She was in her own field because she had not been integrated into the herd. The individuals who did this burned her face with cigarettes, also beat and kicked her side viciously. The attack made both local and national news and vet bills were in thousands of pounds. Crystal was featured in Horse and Hound and her case was cited for stricter punishment for people who abuse animals, especially horses. Despite the loving care she constantly receives from everyone at Sunshine, Crystal has not forgotten and is very wary of people now. Because I was not able to protect her, Crystal now believes she must protect herself. She doesn't bite, but she will nip if she doesn't like what you are doing. Yet, she will protect her riders with every fibre of her being.
Crystal's desire to make sure her riders are safe is what makes her the most popular horse at Sunshine. She is as ideal to teach the first time jumper as much as the Intermediate level jumper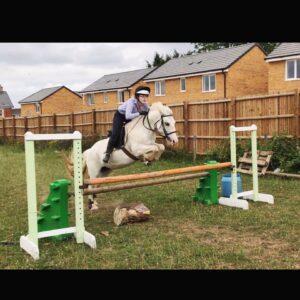 (she's a touch small for the Advanced Class as I don't want her jumping over 1 metre). Crystal is very aware of the speed and approach she must take to a jump with the consideration of the skill the rider possesses. Working with her is like have a team-teaching experience. This is not say that people haven't fallen off Crystal, but it is a very rare occurrence. If a rider has lost their confidence in riding, then Crystal (providing they aren't over 5'6" tall) is my first call. In 2019 at the Early Summer Show we introduced Working Hunter jumping to Sunshine.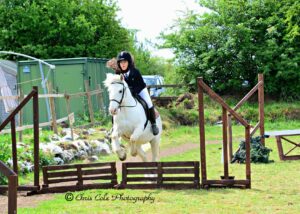 Our hunters, Ben and Tango, were very happy to have the natural type fences, yet Crystal, who to my knowledge has never been on a hunt, took one look at the new challenges and was all in. She took to Working Hunter like a duck to water and won the first rosette ever offered at Sunshine in that discipline.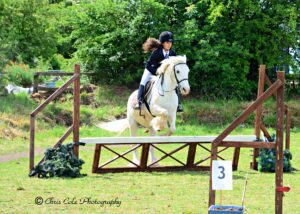 Maybe it was her hunting heritage or deep love for a new challenge, either way she repeated her victory again in the June Jump 2019 in both Working Hunter and Show Jumping.
Crystal, I am sorry to admit, does not like flat work and dressage as much as jumping. Jumping is fun for her, but flat work is just that: work. Because she is not so in love with this discipline, she will make the rider ask for every move absolutely correctly.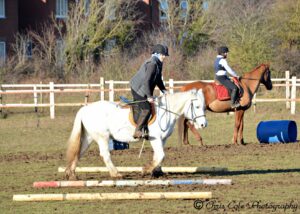 In her opinion, if you can't ask properly then she doesn't have to do it. That being said, this does mean our riders will have learned all the proper technique necessary which makes them very good dressage riders. Crystal has regularly competed in our dressage competitions as well as with Interdressage where she has always won a rosette – just not red…yet.
For all of Crystal's dislike of flat work, when she sees a disabled rider Crystal becomes their best friend. She has lots of patience and care for them. If an abled-bodied rider was shouting and kicking, Crystal would very clearly tell them off (she has one of sternest 'Mare Faces' I have ever seen!). Yet, for our riders who have Tourette or Spastic forms of autism, Crystal will calmly accept the situation and try to help them enjoy both their ride and their learning. She has taken her riders from a petting situation to independence in canter. Crystal wants all her riders to be winners.
Speaking of being a winner, Crystal has made is possible for nearly everyone who has ridden her in a show a chance at a Red Rosette.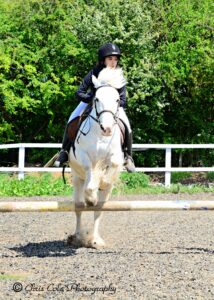 Crystal has a very wide competitive streak. She knows when she is in a competition – whether it be in-hand, dressage or show jumping. She has been introduced to cross country but it is only just above flat work on her list of things she doesn't like. We will continue to work with her on this discipline and we shall see what happens.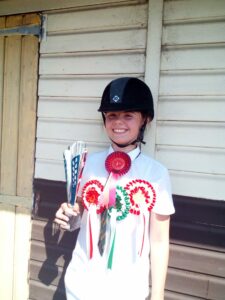 The 2018 Show season was just as impressive as her 2019 season when Crystal and her rider Caitlin won the 2018 Accumulator Cup (we didn't have Cross Country until 2019). As expected, Crystal won In-Hand and Show Jumping, but her Dressage was a touch weak. It was an amazing day for an amazing pony. Crystal hasn't forgotten she won – ask her and she'll tell you all about it.
Crystal not only shows well in proper In-Hand Showing,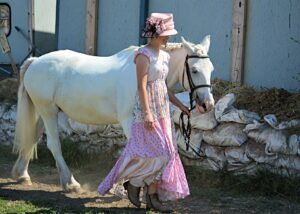 but she is the wonder pony for Fancy Dress Showing.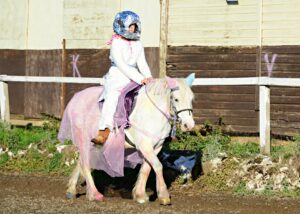 Crystal can be dressed, painted, coloured as anything in the universe and she is happy with it. Crystal has shown as everything from a Space Ship to a Santa's Reindeer, from St George's Horse to a Christmas Present.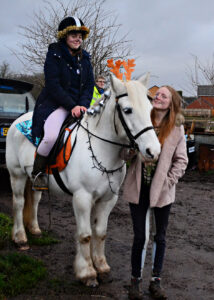 What she finds important is that that she in involved. She is also happy to ride around the neighbourhood in her costume as well.
If Gymkhana is your thing, then Crystal is your horse. She is a great games pony — I suppose it is that "I have to win" spirit she has.
She is able to bend around cones as if she was made of rubber, yet she will also be the easiest pony to lead if the rider is insecure and needs some support. What is important to her is that her rider has fun and thinks they are a winner.
Crystal also loves to hack out – especially to the pub (don't we all?). Crystal is used by our smaller adults on our Pub Rides which follow the bridle paths from here to Lilley and back. She has also participated on our Halloween Spooky Hack (a ride in the dark) and our Faux Hunts at New Year.
She is ideal for the first-time hacker because of her "I'll take care of you" attitude, but she will also give an experienced rider a fun, full-on canter hack if that's what you want.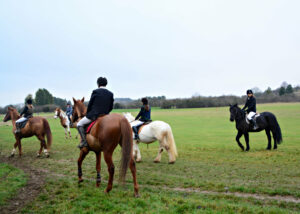 Crystal does not like being the point horse (the one in front on a hack) and is happy to placed middle to back of the ride. She can keep up with the big horses, but just doesn't like to set the pace.
Crystal isn't interested in leading the Herd of Mares. She is happy to leave that to Magic. She would prefer to be allowed to eat in peace and trot when she wants.
That being said, she does not like to be left behind if the mares want to change fields (or escape to the Golf Club car park). She was only mildly curious about June's birth and hasn't expressed any more interest in the year that June has been alive. Perhaps it is her Scottish nature that makes her a bit taciturn. That being said, she has no problem showing her fellow Scot, Bella, a pair hooves when necessary.
I suppose you can now see why Crystal is such a popular pony. She is the first request of all our young riders be they wanting a riding lesson or a pony for camp. Her Pony Ride patience is matchless and she pretty much does qualify as "Bomb Proof". What does Crystal want most of all? To have someone to talk to who is happy to tell her what a pretty girl she is. And Crystal is a beauty in mind, body and soul.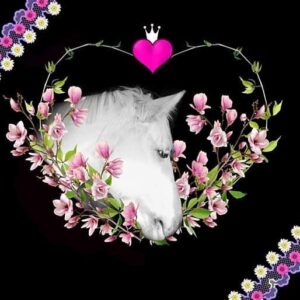 This post would not have been possible without the help from Chris Cole Photography, Shaanon West Photography and the riders at Sunshine. Thanks y'all!