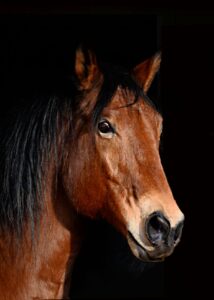 I can't believe it has been a decade since I adopted Charlie. I remember the day I met him. We were at Greenacres in Harpenden. I had just returned for a trip to the USA when I was told that two horses had arrived and perhaps I would like to look at them. There was a mare named Star and a rather sad looking boy named Cassius. I rode the mare but I just didn't click with her. She was young and narrow and I felt too big on her (and we are talking about my thin days here). Cassius was in a box stall at the back of a side barn. I went and looked him over. Again, it didn't look promising.
I agreed to have a ride on Cassius. I was greatly surprised at how good it felt. He, unlike the mare Star, was interested and willing to do what I asked. Best of all, it felt like I was riding an easy-chair!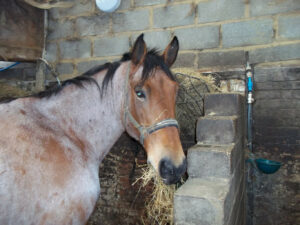 I was asked if would I take him. I said I'd think about it. The next day I went to spend time with him with no one around. I felt drawn to him. He wanted to give someone his love. It was after a half an hour of talking with him I looked him in the eye and said, "Your name isn't Cassius, is it?" He shook his huge head no. "You're a Charlie, aren't you?" And he rubbed his face down my chest and pinned me to the wall (not in a mean way) giving me all the horsey-love he could. I knew his real name therefore I was "obligated" to adopt him, but I wasn't going to be pushed into a decision even by this big boy.
It was a few days later that Beowulf came down with me, and we asked if Wulf could ride him. I knew that my 11 year old was grossly over-horsed, but I also knew my 11 year old would grow and, if I did get a horse, it would have to be for me also. Wulf got on Charlie and you could also most hear the "click" in the air.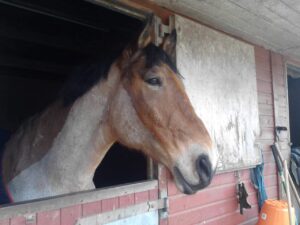 Wulf walked, trotted and cantered that horse like he had been doing it for years. His teacher at the time, James, put a cross pole up for him and the pair sailed over it like champions. James put it as an upright. They flew over it again without touching it and then rode on to another jump which had been left up after James's brother's training session. It was a metre high. I shouted out, "Wulf! What are you doing?" as the pair bore down on it with Wulf's heels kicking for the jump.
They launched and flew not only over the pole but the wing. It was 150cm. They landed as if it was nothing and cantered on as smooth as silk, Wulf in complete control.
I looked at James, who was flabbergasted, and nodded. I adopted Charlie that day. Never again would he be Cassius. He was Charles D'Argent – Charlie Gold.
Living with Charlie has not been easy. Things I didn't know at the time but have since found out: Charlie was a stallion until a month before I adopted him and he has 3 children; Charlie is a rare breed and NEVER should have been gelded; Charlie eats for London; Charlie has the most expensive tack ever and his size is almost impossible to find. Also, Charlie had never really been on the bit until he was mine.
At the time of the adoption, I had worked on and off with horses for 40 years. I knew what I was doing and how to get things done. So it came as a complete surprise that I could not get a bit in his mouth. It was awful. I was viciously criticised by "The Ladies" at Greenacres for purchasing a horse I could not handle.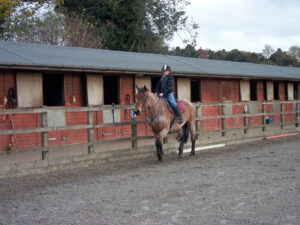 I couldn't understand why he was behaving this way until I found out they had been using a chiffney on him (a very cruel bit used to control horses). The chiffney went away but the mental damage had been done. I ended up contacting Wulf's teacher in the USA, Mr Charlie Carrel of Colts Unlimited, and asking for help. Charlie gave me advice with bitting and it worked almost immediately. To this day, I have not had trouble getting a bit in his mouth (unless he's being cheeky!).
I also had the fun of being chewed out by "The Ladies" because Charlie kept trying to mount their mares. "What kind of horse do you have?!" What could I say? I was rapidly learning that there was a whole lot more to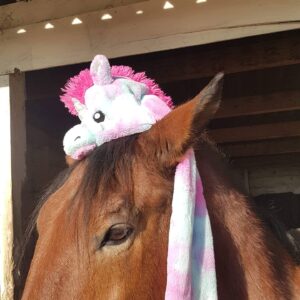 Charlie that I was expecting. One lady was thrilled that Charlie was so forward with her mare, and she was hoping that there would be beautiful babies. I was unsure of what to say again, but I did get the Yard Manager to check one more time to see if Charlie was still a stallion. I also went home and read up on stallions and geldings. Apparently if a stallion has been to the mares and is gelded afterwards, it doesn't matter. He is still mentally a stallion. Yep, Charlie is a stallion – ask him and he'll tell you.
I wanted find out more about Draught horses as I never had worked with one before. In October of that year, I went to Horse Of The Year (HOYS) in Birmingham.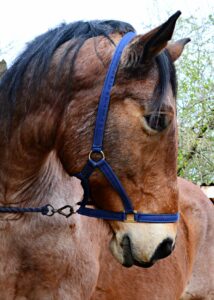 I saw that the Draught Horse Society had a booth there, so I visited. I talked with them about Charlie and showed them his pictures. A lovely lady, who was also The Director, said that she thought he was a beautiful boy, but he was not a Draught Horse. I said, "But his passport…." and she assured me that whoever created it was not clear what they are doing. She sent me on to The Ardennes Society. I went there and talked with them. They took one look at Charlie's pictures and claimed him as one of theirs. They then did a search and found him – and his 3 children. This confirmed his "mounting issues". They were furious that he had been gelded because he is/was a stallion in a rare breed. I swore I would take care of him forever and that they would have no further fear for him. I must admit that when he went to shows, we would be regularly approached regarding using him to stud. It was sad to say that he "no longer had the equipment".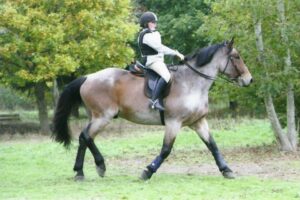 Because I thought Charlie needed more schooling and education than I could give him at the time, Charlie was put on the school at Greenacres. Several of our riders at Sunshine remember Charlie from his days there. Charlie also was ridden in both mine and Beowulf's lessons. In spite of being told that Charlie should be pulling a plough, Beowulf and Charlie developed together and were soon moving from Show Jumping to Cross Country.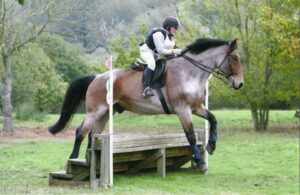 Beowulf was 13 years old when he and Charlie did their course together. I was both terrified and bursting with pride. They have not looked back.
Charlie has moved with us from stable to stable over the years. He has always ended up Head of the Herd, Master of the Yard. I am not sure if it because he is so big – 17/3 Hands and 750 kg – or if it because he is confident in who he is and that he is so thoroughly loved. This love was frighteningly tested in 2015 when the vet detected a heart murmur and said that Charlie was no long fit for competition or school work.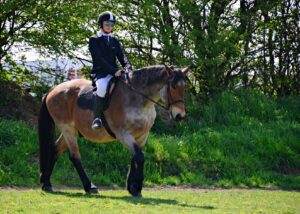 He could be ridden but only as personal riding horse. Beowulf was devastated. His first true equine love was in a bad way. Then we had the night when Charlie could not breathe and we thought we were going to loose him. We were able to get his airways open and it quickly became a hunt to find what allergen had caused this reaction and further damage to his heart. I went through ever bit of food he ever ate, every type of hay or haylage, every type of bedding, looking for the answer.
It was a Wednesday and the boys were at their French lesson. I was still searching through all the veterinary texts to find a clue. I nearly flicked past the article. It was entitled, "Garlic isn't always good for horses". That seemed insane because horses and garlic are part and parcel.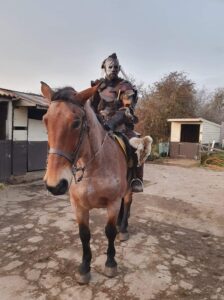 I read the article anyway. It stated that for a small minority of horses, usually very large in stature, a garlic allergy can cause constricted airways, cardio stress and uneven heart beats, extreme mood swings (I will tell you now that there is nothing as terrifying as being on Charlie when he having one of those!), and metabolic issues (your horse is fat, no morbidly obese, even with 6 days a week of exercise). I sat there feeling like a lead weight had been taken off of me. I had found the answer.
I immediately (as in throw his dinner out and make fresh with NO GARLIC) changed his meals. Trying to explain to grooms and caretakers that Charlie is allergic to garlic has been difficult over the years, but now no one argues with me.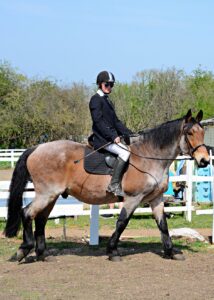 It took Charlie 3 years to recover from what had happened to him. Today he does have some residual breathing issues but they are treated with over the counter antihistamines. His heart has become regular in an odd way, but the pattern is regular. His weight is now proper and he looks good.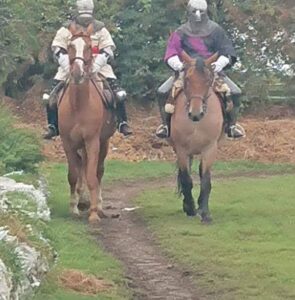 Due to my accident I can no longer ride Charlie. It isn't that I'm scared or don't have what it takes, it is just that I can't dismount. It is too long of a way down for my left leg (Magic is almost too tall for me!), so Charlie has a new second rider (I was always second). Garry helps train him, hacks him out, and is using him for medieval mounted archery.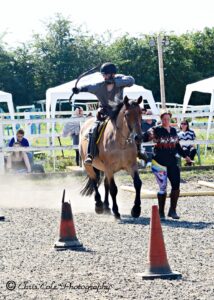 Charlie doesn't mind having a fully armoured knight on his back! Also since the start of the lockdown at the end of March, Charlie has been back in the jumping ring. He can currently do a course of 7 at 40cm and that is getting higher by the day and fitness level. He is also happily doing his dressage – something he doesn't mind but doesn't find as interesting as time spent with poles. Beowulf, Garry and with me coaching means that Charlie is returning the horse he was before his illnesses.
Charlie will be celebrating his 16th birthday on 18 July this year.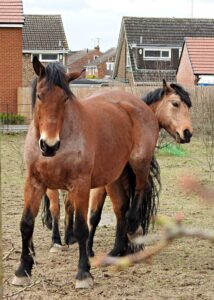 He is not old, but he is no longer young either; however, Charlie is the Godfather of our herd here at Sunshine. He will protect the newbies to the herd and he will care for those who aren't doing so well. He will put anyone in their place if they fail to show respect. He will play (for a bit of time) with the youngsters and graze with his brothers. He is still The Boss and will be so for a long time.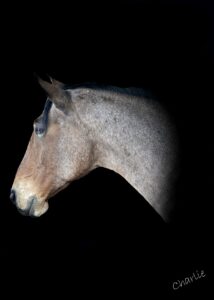 There are not words to explain how much Charlie means to my family and how deeply he is loved. He is my son as much as my two human boys. Charlie is truly part of my personal family and will never leave us.