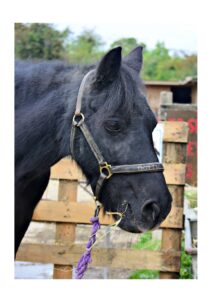 Some people, adults actually, wonder why I call Dottie "Miss Dottie". I suppose the reason why is because she reminds me of a lady I met when I was very young, Miz Ellie. Now that is "Miz" not Miss or Mrs, but Miz.
The summer of 1970 was a Golden Summer for me. I know that is trite, a trope, but it is true. We all have one Golden Summer of our childhood that we all remember.
That Summer of 70 (unlike the song) was filled with sunshine, hot days, warm nights, swimming lessons, trips to my grandparents lake house and a trip to my other grandparents lake house. It was 3 months of bliss. The best thing that happened was I made a friend.
My parents decided that they were going to extend our house. My father hired a man from Louisiana named Mr Beaubarre to oversee this building project. This was quite unusual for where I lived because Mr Beaubarre was black. When I was introduced to Mr Beaubarre I could not say his name properly because I was both not Creole and six. I called him Mr Blueberry. Oddly he liked that and said I was to always call him that.
Mr Blueberry had a son who he called Junior who came to work with him. I never knew what Junior's real name was but he was simply called Blueberry, which he also laughed and liked. He was also six. We spent that summer exploring the woods together, playing in the building sand, climbing trees, riding bikes and having a great time. Blueberry and I had a lot of fun and caused more mischief than my mother really deserved.
As with all building projects, it came to an end. Mr Blueberry said that the winter was too cold for them. They returned to Louisiana and I never saw them again. It has been 48 years and I still wonder what happened to my friend Blueberry. I do hope he had a happy youth and is still laughing and loving like he did in 1970.
Now Blueberry had a grandmother, Miz Ellie. She wasn't a particularly large lady, about the size of my mother (which I now realise as an adult means she was actually very small, probably 5'2", which is kinda big when you are 6).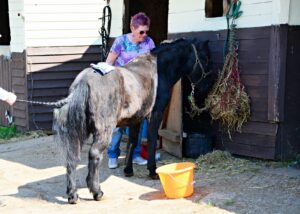 Miz Ellie came everyday with Mr Blueberry and Blueberry's lunch. She would arrive at 12 noon in a shining dark blue car (don't ask makes and models – remember I was 6!). Miz Ellie was immaculately dressed including hat and gloves. We had a table on our patio and Miz Ellie would set out lunch and they would eat – knives and forks and everything (my Mom gave me a bologna sandwich on a paper plate!)
I learned very fast that Miz Ellie was not a lady to meddle with. If I was being silly or cheeky, her face was would become hard and she would raise her thin eyebrows. A shiver would go down my spine and I would adjust my behaviour immediately. The one time I was rude, Miz Ellie looked at me and said, "I am surprised that such a fine young lady would have such an ugly mouth." I was devastated. She also mentioned it to my mother. I was grounded for two days. I never did it again. Blueberry told me I was lucky that I wasn't her grandchild because she was wicked with a switch.
Miz Ellie taught me many things that summer and I still (when I remember) abide by them today. She taught me that being a lady doesn't mean that you have to have a pedigree from the finest houses, but to behave in a way that brings honour to people and God. She was a wonderful person and I know that Blueberry loved her deeply.
So why does Dottie remind me of Miz Ellie? Because they are cut from the same cloth as it were. Dottie is the oldest horse at Sunshine. This year she will be celebrating her 28th birthday.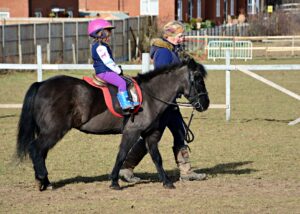 She loves children and tries to teach them things that are more than just riding. She likes to be groomed and loves to be made to look good. She is polite, but does know her own mind. She will tell you off if you are doing something wrong.
From the passport records,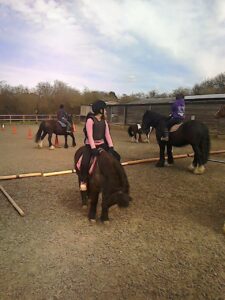 Dottie came to Sunshine 20 years ago. She was originally called Dusky, but that was changed at some point. Almost everyone who knew Dottie years back, know her a Dottie.
Dottie is a Welsh A pony from Wales. Like Miz Ellie, her linage is not great or famous. It is a pretty good bet that she came from Pit Pony stock. Wales had over 70,000 pit ponies in service before World War I and they finally stopped using ponies in 1979 when the last two came up. Pit ponies did not have a life, to be honest. They were often bred, born and died in the mines.
They were expected to carry up to 3 tons of ore up to the surface or to the surface elevators each week. They had little to no veterinary care. Most of them did not see their 9th birthday. They were tools and treated as such.
When pit ponies came to the surface they had another problem. Most of them were blinded by the light. They had only known darkness and their eyes could not adjust to the brightness of day. Due to this, many were put down because who wanted a blind pony. The rescue societies started after World War I. They put pressure on the government to stop the use of pit ponies, but they were only mildly successful.
What really changed was the development and implementation of machinery. Machinery didn't need fed. Machinery didn't need sleep. Machinery didn't have "do-gooders" causing problems. The rescue societies did save thousands of ponies and did see that proper care regulations were put in place.
It was the 20th Century which created the Riding School.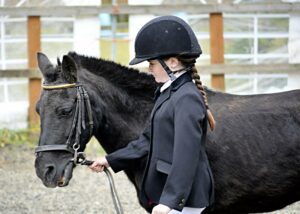 The small ponies which previously used for work became used for leisure. The children's riding pony became very popular with the Princesses Elizabeth and Margaret Rose. Riding became an activity that the middle class could take part in. A very big social change for Britain.
So what has Dottie done since she came to Sunshine? Dottie has taught over a thousand children to ride.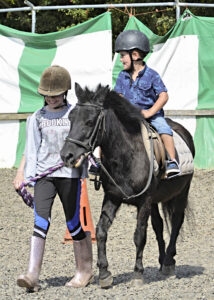 Dottie has worked with disabled children. Dottie has competed in both show jumping and dressage. Dottie loves to hack and still takes part in them. Dottie has told us in no uncertain terms that she is not about to retire.
We have tried to retire Dottie because she is an elderly horse. If she was a human she would be 87 years old. Okay, not as old as Queen Elizabeth who still rode at 89 years old, but still a good age to stop! Except she won't. Dottie also has a disease called Cushings Syndrome. This affects her legs and feet and can cause laminitis (which will kill her), her ability to control her weight, her ability to shed her coat. This last one means that she regularly gets a full clip – we call it her spa day. She is patient and appreciates it.
The laminitis is my biggest concern.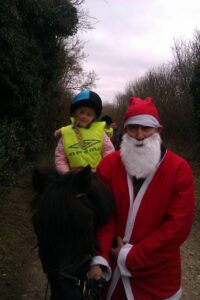 A horse is only as good as its feet. Now you know how much care has been expended with Magic's feet, and we are always on the watch regarding Dottie's. Dottie had a bout of laminitis in 2018 and it nearly killed her. I had not "officially" had her diagnosed for Cushings because it was just obvious she had it. The previous manager, Becca, had done a fantastic job keeping Dottie sound and I simply followed what she had been doing. Becca had warned me that under no circumstances should Dottie have any sugar. She was very clear that sugar meant a one-way trip to the Rainbow Bridge. I listened and did as I was told. Some how, in some way, some one gave Dottie sugar. The Nightmare Began.
We caught the laminitis very quickly.
I saw she was standing oddly and then could barely walk. We immediately began icing down her feet and legs with cold water. I called the Vet and Dr Laura was out within the hour. We created a deep soft bed for her and began praying. Dr Laura provided the various medications needed and did take a blood sample for the Cushings Test. There was not much more we could do but keep cooling her feet every hour and make her comfortable. This went on for 7 days. Dr. Laura returned and although there had been no improvement, there was no further deterioration. It was decided that we would give it another week, and if there was no improvement, then I would make the dreaded call.
I called a meeting of the Staff and Handlers. I told them what had happened and what was going to happen if Dottie did not improve. It was not a pleasant morning as shock and tears filled the yard. The potential loss of Dottie because of a polo mint taught them an important lesson. Never feed a horse anything without permission. I still do not know who fed her the sugar, and I don't want to know because I believe whoever did it has punished themselves more than I could have ever devised.
Dottie turned the corner on day 12. She began to perk up and I cried with relief. Dottie was seen by Dr Laura on Day 14 and she confirmed that Dottie was improving. Dottie spent the next 4 months on box rest. She was loved and cared for and observed constantly.
We received word from Dr Laura 3 months after the attack of laminitis regarding the Cushings Test. Dottie had scored 908. She should not have had above 60. The question was, "How is she alive?" Dottie is tough. So we started her on new medicine which in 6 months lowered her protein count to 274 and a year later she was at 149. I haven't had her tested this year because of the lockdown, but when we are free and open, we will give her another test. She is now looking as good as she did in 2017 when she was younger, stronger and healthier.
So Dottie has had a life of ups and downs – rather like Miz Ellie. I don't think I would have wanted to a black woman in America in the mid-twentieth century. I am pleased that Miz Ellie got to see the Civil Rights Movement and the improvement of situation for black people in America. Miz Ellie was tough but she was kind and loving as well. Dottie is tough, kind and loving. Both of these ladies has been a honour to have in my life and I am sure they would have been good friends.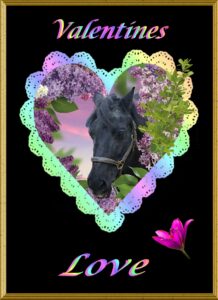 This post would not have been possible without the help from Chris Cole Photography, Shaanon West Photography, and all the riders of Sunshine who have over the years loved this beautiful lady. Thank you very much.