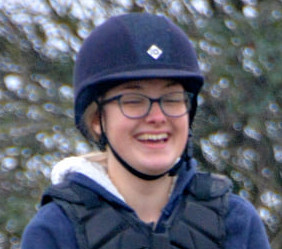 Our newest Teacher at Sunshine is Maisie Fleckney. She joined us in October of 2020 and has become an integral part of the staff. Maisie was born in Luton in October of 2000. As a teenager she attended Ickneild High School before moving on to make animals her life.
Like Beowulf, this was not a difficult decision as Maisie has been surrounded by dogs, cats and birds her whole life. The family collie, Nessie, welcomed Maisie when she came home from the hospital as an infant, and Lucy and Jessie, the family cats, soon followed. Maisie's dad kept an aviary which was home to Coco the African Grey parrot and Frodo, a Conure parrot, as well as rehabilitating 3 tawny owls which were set free back into the wild. Currently Maisie has 3 cats: Merlin, Lucy and Otis (who may have a touch of the OCDs as he must bathe the other 2 cats every day!); 2 white Huskies Luna and Zara, and a hamster named Holly.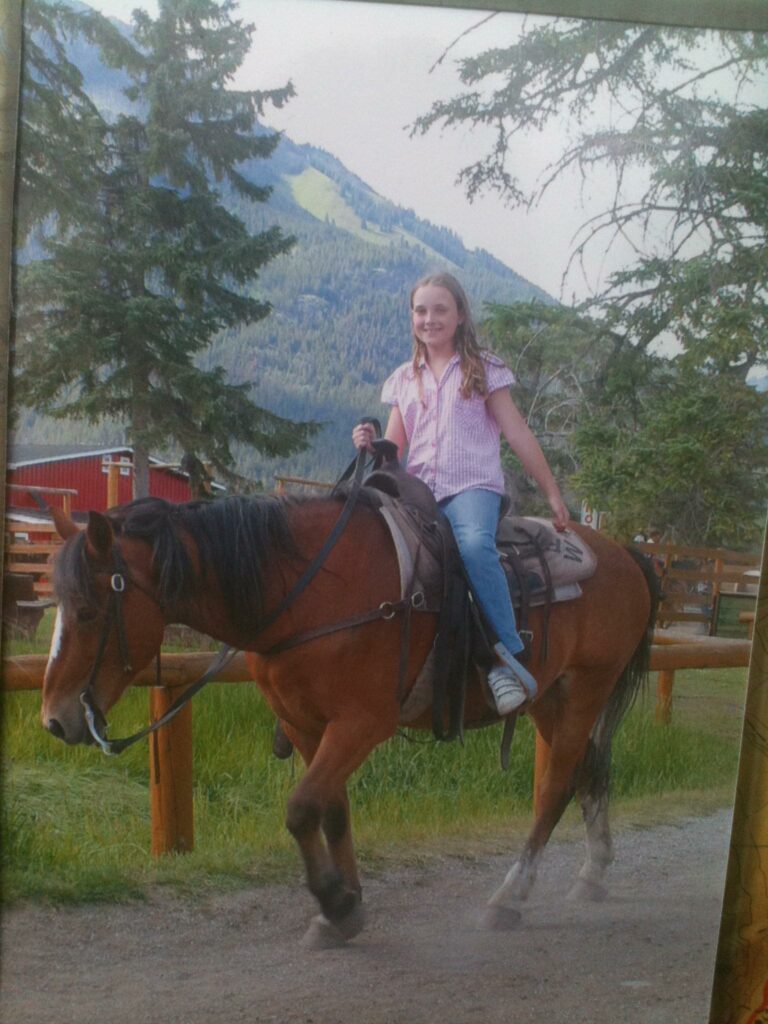 Maisie has ridden not only in England, but in the USA, Australia, Canada. She says she finds Western style easier because it has "that great big pommel to grab on to". I did agree, but told her it wasn't a handle. Maisie laughed and pointed out that it made it harder to fall off. I did have to agree with that too.
I met up with Maisie early in the week and asked her the same questions I asked Beowulf.
How old were you when you started riding?
About 7. No, maybe 8 I think. I really don't remember. What I do remember is that I started at Sunshine, so it's all come full circle.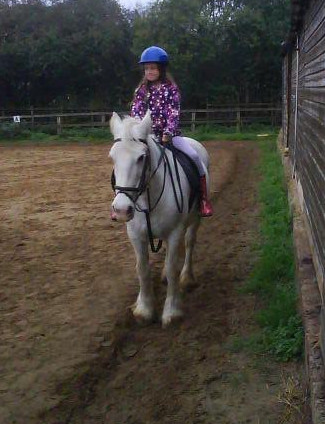 Why did you start riding?
I was a horse crazed girl who wanted to be a unicorn. I do have pictures [she does]. I was always a bit different in school and I just liked doing something different. Not everyone rode horses.
What has been your biggest challenge?
Gaining confidence as I know I can but just going and doing it as well.
What has been your easiest challenge?
Jumping. I love jumping. I was doing really okay and then Covid came and now it feels like it is out the window. But I will be back. I want to do the Accumulator Cup this year so I will be jumping.
What is your favourite discipline?
Jumping. I like dressage but cross-country looks interesting. I did say I was planning on doing the Accumulator, so I need to get my jumping confident because the cross-country is going to be a real challenge.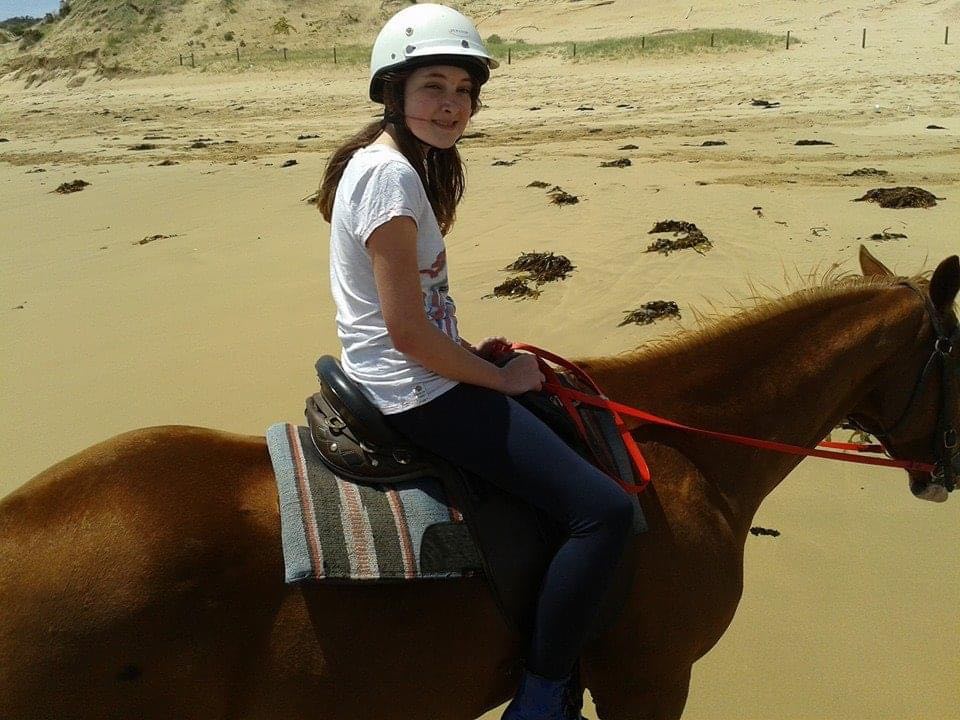 What is your least favourite discipline?
I like them all collectively, but if I have to – it's flatwork.
Who has been your favourite teacher and why?
Actually it you [Kimberly McGuinness]. You taught me most especially with developing the confidence. And when I fell off Paddy, you were able to help me get my confidence back. You tell me to get on with it and that is just what I need.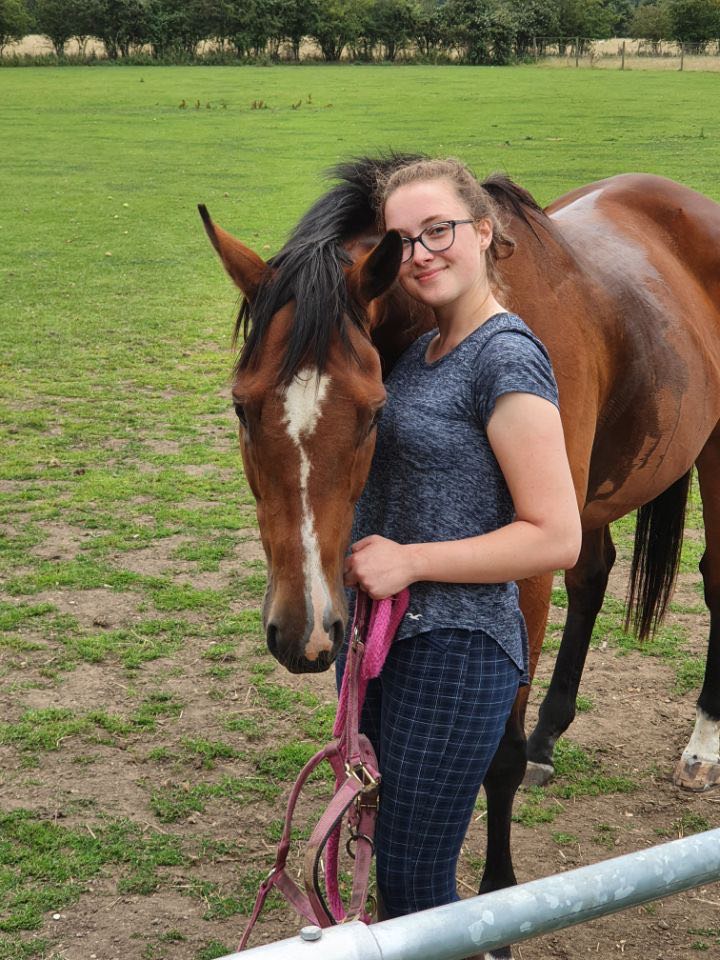 Paddy is a 16 hander that Maisie worked with during the spring and summer. They were riding in a field when Paddy was spooked. He spun and bolted which threw Maisie. She ended up going to hospital, but she was fine except for a black eye and the usual bumps and bruises from a bad fall. She was very frightened when she came to ride Stan, but in a few lessons she was back to being herself and knowing she was boss of the horse, not the other way around.
Who is your Riding Hero? Why?
Ben Atkinson. He puts the effort in. He has natural horsemanship, not just a show off. He inspired me to work with horses. I'd really like to meet him someday.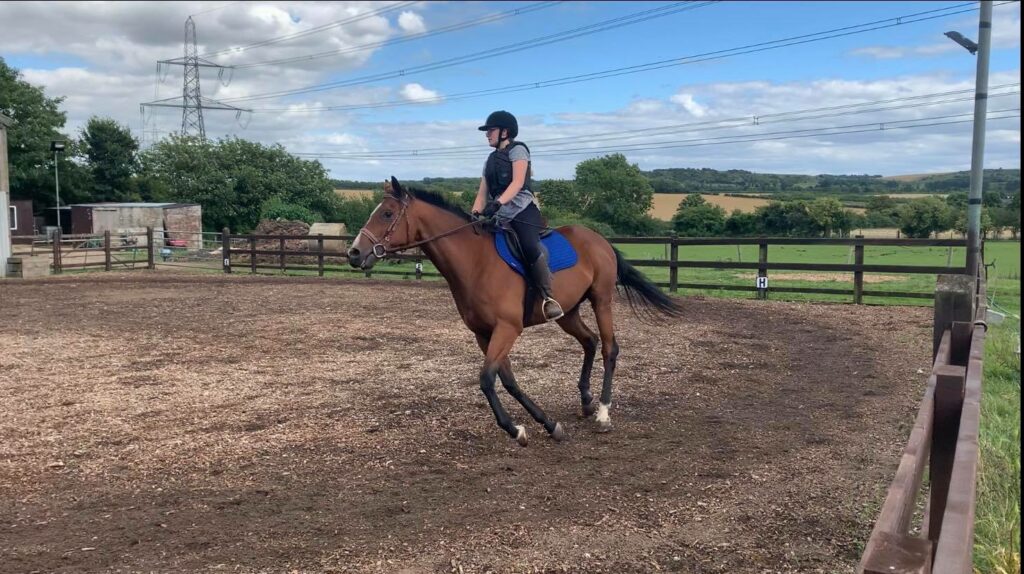 What is your riding dream?
To be able to event. Until I came back here earlier in the year I hadn't really thought about it, but now to go to a One Day Event is my goal. I've also not had my own personal horse, so this will be the challenge also. I gotta get Dora to do it.
Who is your favourite horse and why?
Dora. She helped me gain confidence. Dora got me back on a horse after the bad fall from Paddy. I trust her.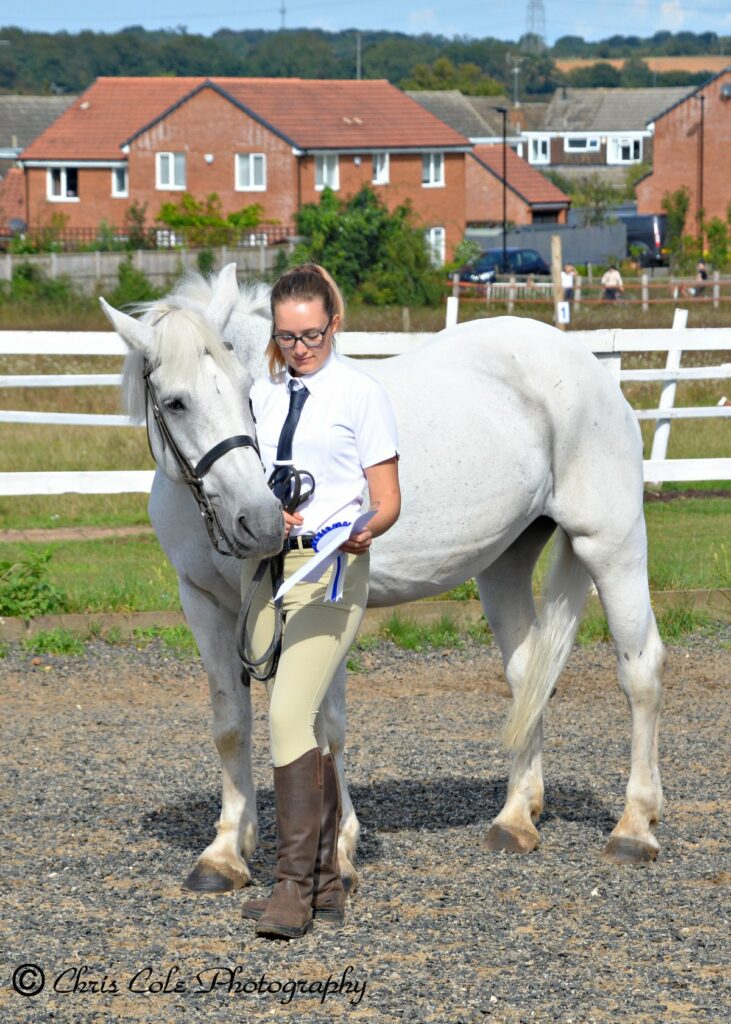 Why did you go into teaching?
It is something I could. I really enjoy it and can do it. I really like working with the kids. To watch them blossom is so rewarding. Being able to watch to watch them grow and develop and do really well and I know I helped.
What is the one job you hate?
Washing the feed buckets in the cold. Oh, and the muck runs. Once or twice is fine, but 5 time on my own is a bit much. [I agree]
What is the hardest thing you've taught?
That is getting the kids to let go of the saddle but not grip with the knee in a trot. The more you grip with the knee and not the leg, the more you bounce. Bouncing kids is scary.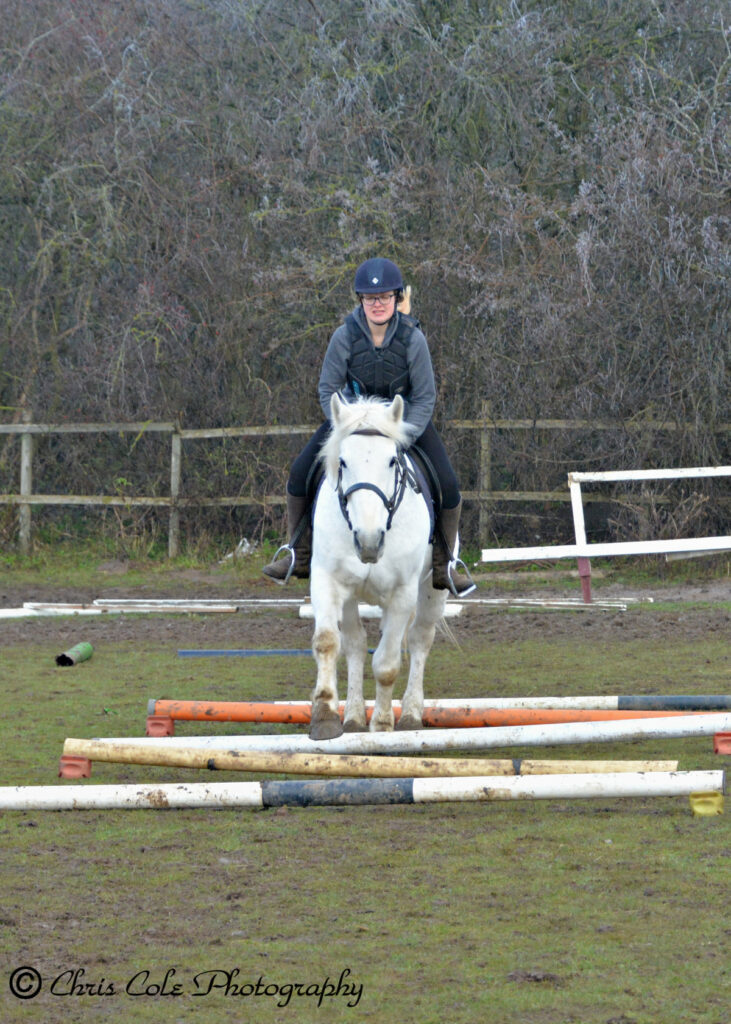 What is the easiest?
Rising trot. It's visual so they can see what they're doing and they can follow me shouting out, "Up! Down! Up! Down!". By the end of the lesson they have a good idea of what it is. Just need to remember it for the next week.
What do you think you still have to learn?
A lot. I need to be able to talk to different ages of riders. I need to be able to talk to them and not overwhelm them. We have a lot of different age ranges here and to get them to do it, but not get angry or upset when they can't. Confidence is just so important.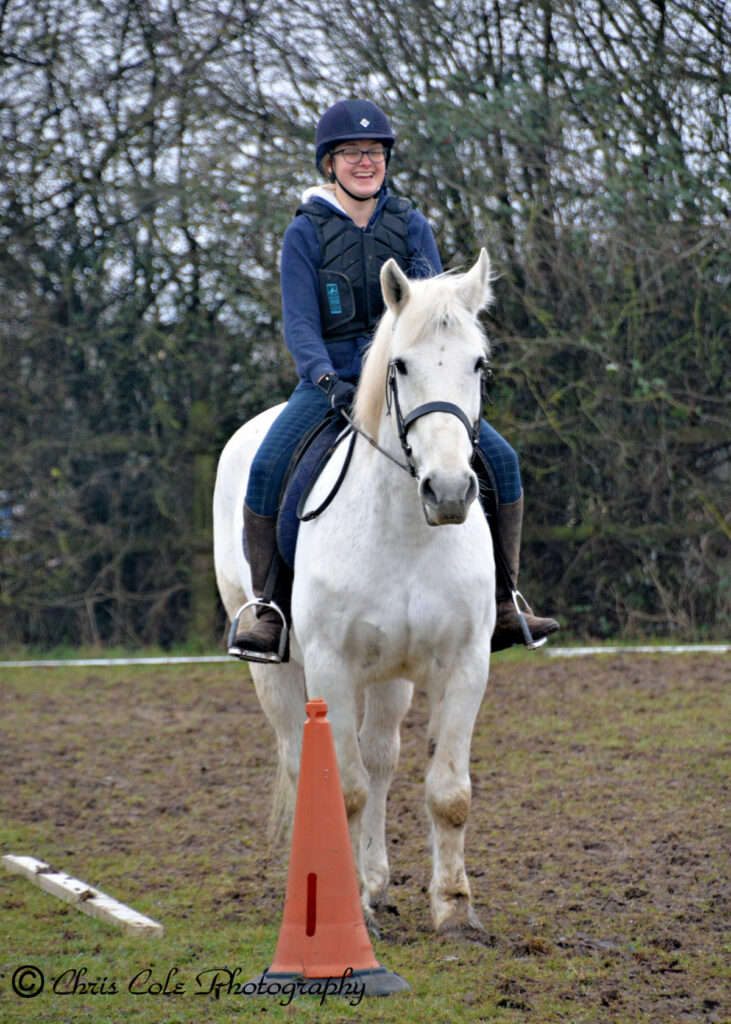 As Maisie and I went our separate ways, I was pleased that she was so happy to be at Sunshine Riding. Her drive to be a better teacher and a better rider will mean that her lessons will also be filled with the right challenges to create the best riders. We look forward to seeing what she will be able to teach, do and refine with Dora, who Maisie already has doing cavaletties. That ODE may not be as far away as Maisie thinks.