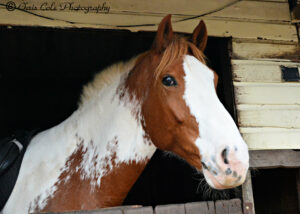 "Hi! My name is Stan! I'm Adam's friend! I'm a 10 year old Painted Cob!"
Thank you Stan.
"I like to run really fast!"
Thank you Stan.
"And I like to play with my friend Henry!"
Stan….
"And I…"
STANLEY!
Yes, life with a lively young horse is both challenging and fun. As Stan has told you, he is a 10 year old Painted Cob with a personality as big as he is. Stan is the smallest of our Big Boys, coming in at 17 hands. What is a "Painted Cob" you say? It's a white or cream body covered in red or brown splotches. Stan is a very handsome red. He looks a lot more Jackson Pollock than Vincent Van Gough however.
Stan came to us to join his "brother", Ben, who is also one of the Big Boys. Stan had visited Sunshine in 2018 when he competed at our annual one day event,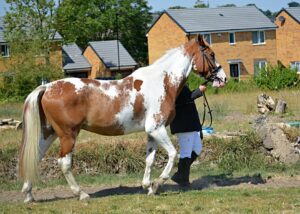 The Accumulator. He was one of our top finalists having competed in all areas: In-Hand, Dressage, Show Jumping. Stan has a big future in front of him, but he will need a lot more training to achieve it.
Stan, like all young horses, has more energy than he knows what to do with. This is great when you have a big course of jumps or a long, intricate dressage test, but for day to day living this energy can get him in trouble (He thinks of walking through closed doors as an optional way of entering and exiting his stable). If you think of Stan like any other teenager, then you know what hi-jinks he can get up to.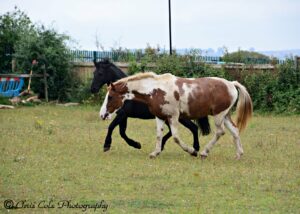 Stan's energy has made him an ideal field companion to Henry, who is also a young horse with more energy than sense. The two of them like to play together in a somewhat rough and tumble way which can include rearing and bucking. Now Charlie, who is the father figure of the herd, often finds himself having to separate and discipline these youngsters. And don't think he won't do it!
Because at Sunshine we don't like to train horses using whips, it means that a good education can take a bit longer. We believe is using positive reinforcement rather than negative. So when Stan is introduced to something new, we expect him to panic and refuse.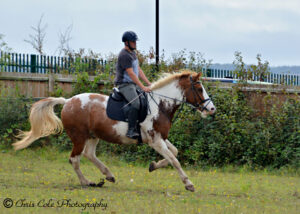 We don't tell him off, but we keep the exercise simple until he relaxes and feels confident, then we make it a touch harder. It has taken some time, but Stan has learned to trust us and knows that we have his best interest at heart. When Stan has learned a jump type or a dressage pattern we give him lots of praise and love. Because he likes how that feels, he wants to do more.
So this summer our goal with Stan is to have him compete calmly and competently at the upper levels of Novice in dressage and to be happy jumping 75cm. So what do we mean by calmly and competently? Obviously I mean that Stan should not be frightened by the movements and changes in pace during dressage. That he knows what he is doing and is enjoying showing off how beautiful he is.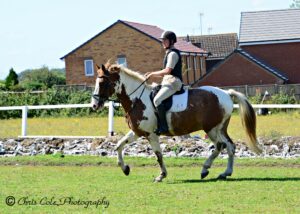 When Stan is relaxed, he is a stunner with his paces! His balance and head carriage is exactly what the pictures in my dressage books show a horse should be. The natural suppleness that comes with youth (of all creatures and species including humans) shows both his power and his ability to bend with ease in all paces. And Stan does like to show off how good he is!
When Stan is learning to jump – yes horses have to learn how just as much as their riders, it is important that he learn to use his head as much as his powerful back legs and topline (trans: his back).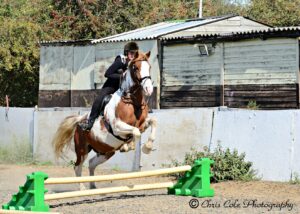 He needs to learn to not rush at a jump – which he does in his excitement — but learn to come in balanced and collected, then jump with a strong rounded head and shoulders which will help him land without injury. This takes time. It is also important that he learns all the different types of jumps there are: cross poles, uprights, oxers, spreads, liverpools, doubles, triples and fillers. This is just for show jumping! And then there is cross country which has logs and fences and ditches and trakehners and steps and tyres and water. Oh my! So much to learn! Did I mention also all the flowers, plants and colour? All of this can confuse, worry and spook a young horse like Stan.
So Beowulf and Ana are busy working with Stan and me on all of these things. Stan is learning and he is learning that it can all be super fun. We, as humans, have to be careful that we don't over work him. It is important that he does get his play time. Part of Stan's play time is to go out with Ben on hacks on our local bridleways. Again, he gets super excited and has been known to canter sideways. This is great if you will be riding upper, professional level dressage, but not the best on a day when you want to just a hop-and-a-trot over the hills. I am glad that he has all this energy, but he does need to learn to channel it sensibly!
Why do I keep going on about being sensible? Remember that Stan is a cob, and a big one at that. I mentioned in Callie's Story briefly about cobs. There is a specific Welsh Cob breed, but the beloved, all-around wonder horse known as a cob is a bit of mixed history. Apparently, it is more about body type and temperament than actual breeding.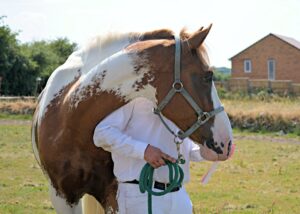 A cob is known for being even mannered and patient. They are also known for having a strong shoulder with a bit of a chunky body with heavily muscled legs. Well, this sums Stan up to a tee! Cobs have been used for everything from personal riding horses, to pulling carriages to pulling a plough. All this pulling because of their shoulder strength means that when they are a riding horse, the rider must have the confidence to use all the aids as necessary, especially the leg! So this is why Stan's strength is both a blessing but, if not trained properly, a curse.
Stan's cobby temperament means that he is lover of kisses. He loves affections and is quick to give it to like-minded gentle souls. He also is a clown. He pulls some of the funniest faces I have ever seen.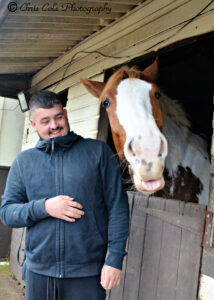 Anyone can see what is on Stan's mind because it is all over his face – from love me now, turn me out Now, feed me NOW! Stan has been know to grab my hood (it is winter currently) and pull me back to him so that he can tell me something. Sometimes this is fine (and a touch cute) and other times it is annoying because it is driven by his youthful impatience (and an unending desire for hay).
We feel very lucky to have Stan living with us. He is a delightful young man who will become a very lovely gentleman over the next few years. Stan's story is only beginning. Keep watching to see where he is going and what he will achieve. All with a twinkle in his eye!
This post would not be possible without the help from Chris Cole Photography and Mr A Yori. Thanks Chris and Adam!